A managed IT services provider (MSP) delivers essential IT solutions such as those related to infrastructure, security, network, and applications. Ongoing regular support, maintenance, management and administration is provided, either on-site or through their own data center.
Partnering with a reliable MSP effectively reduces your company's IT downtime, allowing greater productivity in other pressing areas of business and thus, greater profits.
But not all MSPs can guarantee these benefits for your business. You need to find the right MSP for your organization, and here are some tips to help you do just that.
Send out a request for proposal (RFP)
When sourcing the right MSP for your business, an RFP can help you find your best fit. This document encourages potential contractors (i.e., IT companies) to bid on your available position for an MSP, and details all your technical requirements, including:
Business objectives
Budget
Current problems with IT or business processes
Expectations of how they'll contribute to business growth
Once you get bids rolling in, it's important to assess how well potential MSPs understand your company and its requirements and goals. If an MSP provides concrete solutions to your outlined problems, their tools for measuring success, and details on fees and payment, consider them for your shortlist.
Check for relevant experience and expertise
Aside from how well they respond to your business requirements, it's also crucial to do a background check of your potential MSP.
Do they have the relevant experience and expertise you need? A reliable MSP is capable of mapping technological investments to business goals, helping push growth and greater performance. Be sure that they display the technical knowledge and prior training (i.e., through certifications and accreditations) required to drive results.
Additionally, it's important their experience matches the scope of your business's needs. Look into the industries they've worked for, the number of companies they've partnered with, and their overall proven track record required to meet your business's needs.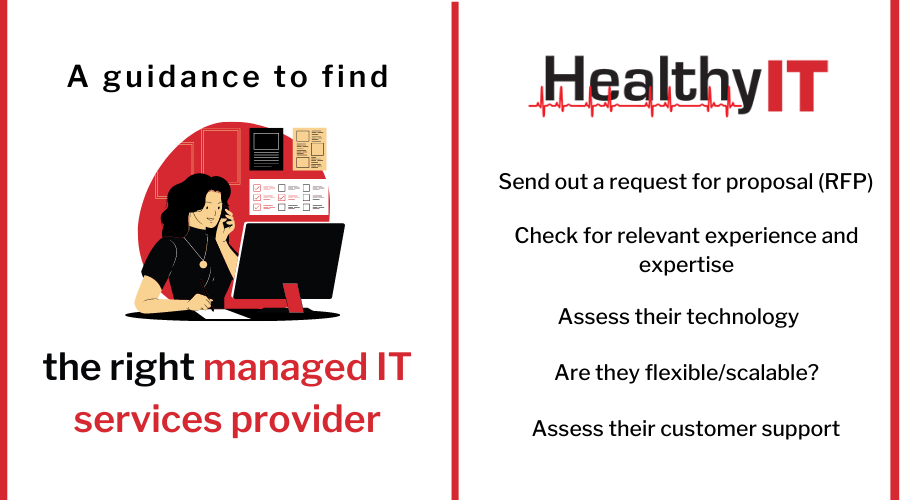 Assess their technology
The ideal MSP should have the advanced, sophisticated technology you're after to enhance IT systems and boost overall efficiency.
A nonnegotiable would be security. Be sure that your potential MSP has a quality cybersecurity system in place, guaranteeing the safety of your own, your employees', and your clients' data. Reputable MSPs typically deliver proactive monitoring, immediate backup and disaster recovery procedures, and sophisticated protocols to mitigate external risks.
With most businesses now moving to the cloud (94% of enterprises, to be exact) your MSP should also provide efficient cloud migration services. Making the move to cloud computing can effectively save your business the extra costs associated with server equipment and storage hardware while improving team collaboration.
Are they flexible/scalable?
Ensure you partner with an MSP that can keep up with high levels of business growth. They must offer scalable, flexible support with the capability of maintaining any number of workstations in the office as your company undergoes changes in size.
They must also be able to address your needs with custom solutions such as data plans, applications, cloud solutions and hardware options specifically tailored to your organization's requirements. As these needs change, your MSP should be able to scale their services up or down as necessary.
Assess their customer support
Finally, a reliable MSP should offer around-the-clock, proactive customer support. Ideally, they'd provide this on a 24/7/365 basis.
They should be able to guarantee fast response times and to tackle a variety of IT issues as quickly and efficiently as possible. Flexibility is also key in providing this service. Whether over the phone or on-site, managed IT services professionals should be capable of jumping to their clients' assistance when needed.
Having an MSP with dedicated, reliable customer support dramatically minimizes downtime, and contributes to a strong, confident partnership.
At Healthy IT, we ensure all New York- and Long Island-based healthcare companies are given the IT solutions they need to maintain efficient, technologically advanced practices. Our managed IT services professionals are ready to provide your digital systems with the proactive maintenance, upgrades, and management it needs to provide faster, more reliable services. Get in touch with our experts today to learn more.