Black Friday is just around the corner, and with most people likely to do their shopping online because of the pandemic, cybercriminals will have plenty of potential targets. So it's important to be aware of common fraud and phishing tactics and ensure all your online transactions are adequately secured.
To keep your Black Friday experience cybercrime-free, we've outlined our top security tips below.
Stick to trusted stores and sellers
Be sure to stick to well-known, reputable stores and online sellers, preferably those you've previously bought from. Check reviews and customer testimonials if necessary. Don't let a good deal blind you (especially those offered by unknown brands or sellers); if it looks too good to be true, it probably is.
Keep an eye out for an online vendor's SSL Certificate, which can often be identified through an "https" prefix or a lock icon before their website's URL. Either of these indicate a website that's properly secured, thus ensuring your personal data stays encrypted and secure against hacking.
Watch out for phishing scams
With many people shopping online, Black Friday will be rife with phishing scams and fraudulent activity. Stay vigilant when opening emails with suspicious promotional offers, particularly those sent by stores or brands you've never heard of. Phishing emails often contain misspelled addresses, sketchy domain links, and poorly written copy.
Additionally, don't click on any links provided in these emails, as they often lead to fake login pages or accidental malware downloads.
Check out through a secure platform
A trusted vendor will ensure a secure process for online purchases. Customers will typically be redirected to a secure site or have the option of completing their purchase on a trusted platform, such as PayPal.
Before submitting your credit card details, assess your checkout page for indicators of proper security. Plenty will have a Norton Secure Seal, for example, as a well-known "trust mark" confirming a website's legitimacy.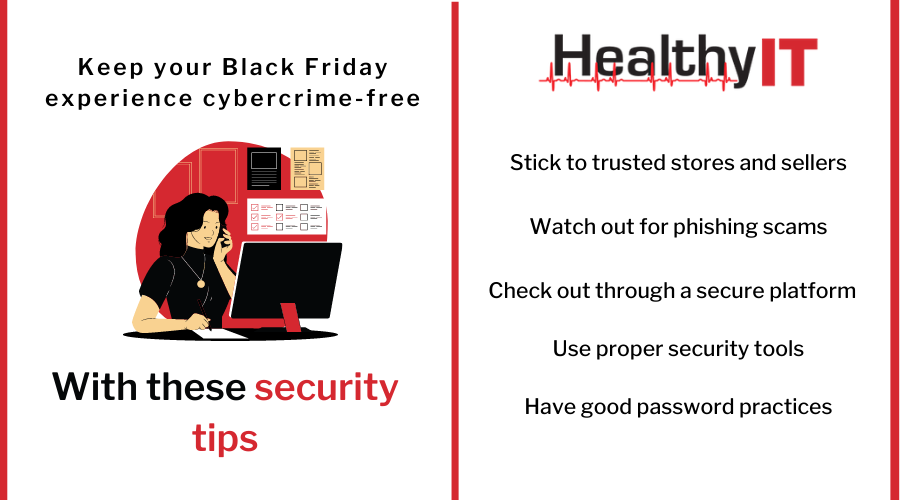 Use proper security tools
Of course, it helps to have adequate safeguards in place before making any online transactions.
Be sure to have antivirus software installed across all devices to block malware or system breach attempts. It may be worth investing in a VPN (virtual private network), as this encrypts all your online activity, making it difficult for hackers to intercept or obtain private information.
A comprehensive security suite can offer all these services through an all-in-one program. This can help you fend off the latest online threats, identify phishing attempts, block spam, and encrypt your online traffic.
It isn't enough to just install them, however. You must also keep these programs up to date, and enable automatic updates if necessary.
Have good password practices
Finally, make sure to use unique, complex passwords for each of your online accounts. A good password combines letters, numbers, and symbols. It might also be a good idea to update your passwords regularly (experts recommend doing so once every three months).
It's also essential to implement multifactor authentication (MFA), a system that adds extra layers of security to your login procedure. On top of your password, MFA requests two other credentials: something you own (i.e., a temporary passcode sent by text or email), and something you are (i.e., a fingerprint or facial scan).
Need to boost your IT security?
Healthy IT offers comprehensive security solutions to keep your practice safe, secure, and successful no matter the season. Using 24/7 monitoring, smart network security, competitive software, and more, we'll ensure your systems stay as healthy as possible. Get in touch today to find out more.